We're happy to announce that
ACCEPT
drummer Christopher Williams will be appearing at the
Nashville Rock N Pod Expo
on Saturday, August 26th in Nashville, TN. Joining the German Heavy Metal legends in 2015, Christopher has quickly built a solid reputation in the music world. The new ACCEPT album 'The Rise of Chaos' is set for release on August 4th on
Nuclear Blast
. Christopher also drums on the ne
w solo disc by former Pantera bassist Rex Brown, entitled 'Smoke on This.' That album is due for release on July 28th.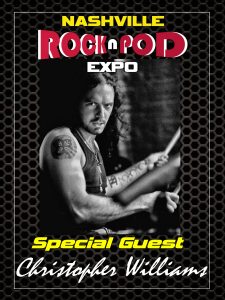 Christopher will be on hand at the Nashville Rock n Pod Expo for a signing/meet & greet session as well as appearing on some of the 25+ rock podcasts that will be recording on-site that day.
Meet Christopher Williams and a host of other rock musicians and personalities including current and former members of Tora Tora, Winger, Budderside, KISS, Tyketto, and many more at the Nashville Rock n Pod Expo. Other features include a Producers Panel with Michael Wagener, Toby Wright, and Kevin Beamish and a Heavy Metal Parking Lot screening and reunion!
Ticket package information as well as full announcements available at www.gofundme.com/rocknpodexpo