ROCKNPOD WEEKEND TICKET DETAILS BELOW
ROCKNPOD PREPARTY ft. Punky Meadows & Frank Dimino of Angel, Tora Tora, Ron Keel, and Greg Mangus All-Stars
Friday August 24, 2018 – Mercy Lounge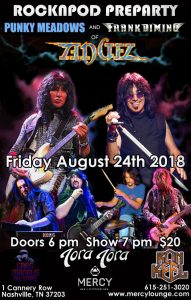 ROCKNPOD PREPARTY
PLEASE NOTE! – All ticket buyers for the ROCKNPOD PREPARTY show will also get FREE access to the ROCKNPOD EXPO on Saturday 08.25.18. Your name will appear at will call at the expo.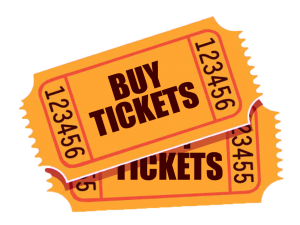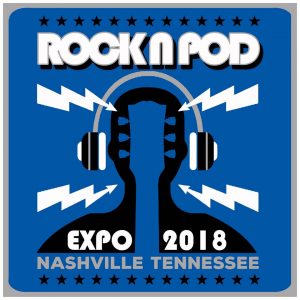 ROCKNPOD EXPO GENERAL ADMISSION DETAILS

$10 – Admission to the Nashville Rock n Pod Expo.
$10.00  gets you in the door to the expo starting at 11:00am.
$20 – Early admission to the Nashville Rock n Pod Expo at 10:00am.
Buy tickets now at www.rocknpod.eventbrite.com
ROCKNPOD AFTERPARTY ft. Denman, Jacob Cade, & Black Heiron
Saturday August 25, 2018 – The Basement
Doors 7pm – Show 8pm – Presented by Rock Rage Radio
Join Nashville's own Denman, singer/guitarist Jacob Cade, and Black Heiron from Detroit as they shred the walls of the Basement in Nashville TN for the ROCKNPOD Afterparty! It's gonna be a great night of music and debauchery. Presented by Rock Rage Radio and featuring an appearance by Ian Wadley & Ralph Viera of the Rock & Metal Combat Podcast!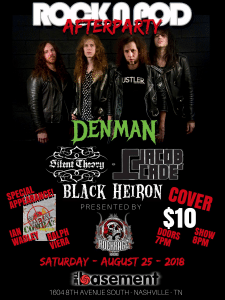 ROCKNPOD AFTERPARTY
Join us for the ROCKNPOD AFTERPARTY!
ROCKNPOD COMEDY NIGHT ft. Craig Gass, Earl Skakel, and Courtney Cronin Dold
Saturday August 26, 2018 – Zanies Nashville
Doors 6:30 – Show 7:30
Get ready to "Laugh It Up" with Craig Gass, Earl Skakel and Courtney Cronin-Dold at the official ROCKNPOD Comedy Night! There's no better way to close out this awesome expo and weekend of rock and roll music, musicians, celebrities, fans, vendors, and podcasters, and run on sentences… than with a hilarious night of rockin' comedy at Zanies Comedy Club in Nashville!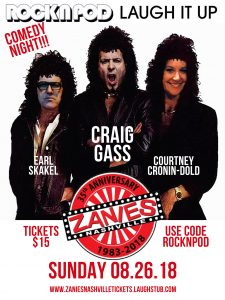 ROCKNPOD COMEDY NIGHT
Tickets Available now at http://zaniesnashvilletickets.laughstub.com/event.cfm?cart&id=510761